New Construction Software for Real Estate Agents.
The FREE HBN plugin has revolutionized the new home construction market by developing software that allows the general consumer instant online pricing with thousands of floor plans to choose from and multiple home builders to interview.   When a licensed real estate agent installs this plugin on to their own website domain they gain three main sections that will keep the consumer coming back.
Search feature- Allows the consumer to search for new construction homes based on their criteria. Here is a few screenshots of the "New Construction Search Feature" Note: the Optional multiply tabbed "Existing Homes" and "New Construction" feature seen in the last image.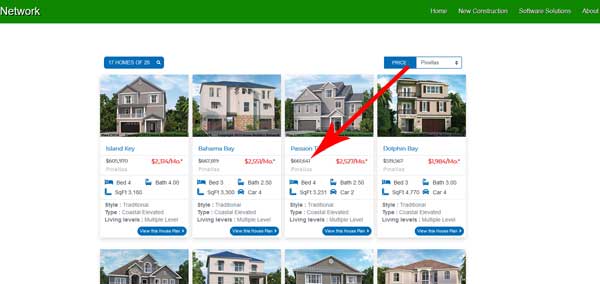 Search Results- Thumbnail results of the search performed. These results have a few highlighted data fields and includes pricing be county.  Here is a few screenshots of the "New Construction results" pages.
Detail Page- The third section becomes available when the front end user clicks on one of the thumbnail results and opens a full "New Construction Detail page" The detail page is packed with tons of information about that exact home. Here is a few screenshots"
HBN Plugin - Basic Version
Hundreds of House Plans w/Options.

Multiple Search Filters w/Shortcodes

Double Tabbed Search Filter for MLS Search.

Text, Button & Background Color Settings.

Lazy Load - Max. Search Results Displayed.

Agent Contact Info on House Plan Detail Page.

Share Options for Popular Social Media.

Print PDF Unbranded Home Plans Flyer.